Featured Item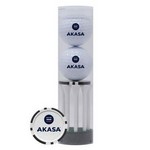 2-Ball & 8-Tee Tube W/ Poker Chip Ba...
Popular among golf outings this Two-Ball Tee Tube includes two Callaway Warbird 2.0 golf balls and eight 2-3/4" tees with one Poker Chip Ball Marker (digitally printed on both sides) in a plastic tube...
$6.02 - $6.38
Welcome to Go Big Golf!
We hope you find exactly what you are looking for on our site! If you have any questions or need assistance do not hesitate to contact us.
Our #1 priority is to provide top quality customer service. Our Golf Event Consulting and Planning, Golf Instruction, and Fundraising professionals are here to guide you in every facet of your Golf experience. Check out our main site at GoBigGolf.com for Course reviews, Blog, Event Planning materials and more!
"God, Family, Golf"